My kids are off school for the next 5 days. Boy, that huge mulch pile arrived at just the right time…coincidence? I've been thinking, many of you are probably taking trips for Memorial Day weekend. Yes, the mulch pile has my name on it, but you're headed to better places...probably involving a beach chair and a cabana boy. I'm happy for you.......really I am.
Now you know the traffic is going to be crazy and I want my LBT friends to be safe out there. Please drive safely people and pay attention to the street signs as you're driving new routes through unfamiliar streets!
Pay close attention to the speed limit signs.
And I'm sure you know better than to speed lest you spend your long weekend in the pokey (no cabana boys there, but maybe some cute boys in uniform).
Children have the weekend off too. Remember my kids are off starting today, so please don't hit them...I can't make any more...and that mulch pile has their names on it too.
You might want to wake up the person riding shotgun when you need some help navigating and fly by signs like these at 45 mph.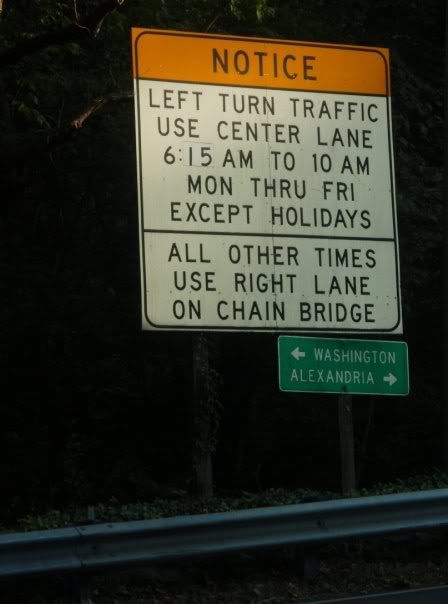 ...and when in doubt, just STOP and get your bearings.
Have a great vacation...and if you have no plans, no worries, you can always PM me for my address...we've got some crazy fun times planned involving wheelbarrows and pitchforks. I'll SIGN you up...I'm even taking long haired freaky people!
---------------------------------------------
*In response to Comments:
It's in the 80's and sunny here. You really need to move up North where the weather is nicer...LOL.
The only thing worse than a mulch pile? A wet mulch pile (like it's not heavy enough already!). We're expecting scattered showers over the weekend...YIKES.